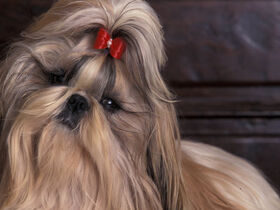 Companion dog usually describes a dog that does not work, providing only companionship as a pet, rather than usefulness by doing specific tasks. Many of the toy dog breeds are used only for the pleasure of their company, not as workers. Any dog can be a companion dog, and many working types such as retrievers are enjoyed primarily for their friendly nature as a family pet, as are mixed breed dogs. The American Kennel Club also offers a Companion dog title for judged dog obedience competitions.
Affenpinscher
American Alsatian
American Hairless Terrier
Askal (Aspin)
Australian Silky Terrier (Silky Terrier)
Basset Hound
Bichon Frisé
Boston Terrier
Brussels Griffon
Cavalier King Charles Spaniel
Chinese Crested
French Bulldog
German Spitz
Havanese
Indian Spitz
Japanese Chin
Japanese Spitz
King Charles Spaniel
Lhasa Apso
Mexican Hairless Dog (Xoloitzcuintli)
Miniature Pinscher
Community content is available under
CC-BY-SA
unless otherwise noted.